Directed by Benjamin Tobler
Synopsis :
The Swiss multiple motocross champion Marc Ristori had a terrible fall during the Geneva SuperCross on 30 November 2007. He was 25 years old.
The accident was serious and the diagnosis was going to change his life dramatically: he was a paraplegic.
For some people, everything falls apart within seconds after such news: projects, friends, family… Not so for Marc Ristori, because he is a fighter.
He got back up as a champion would, ready to tackle a new task: build a new life with other challenges.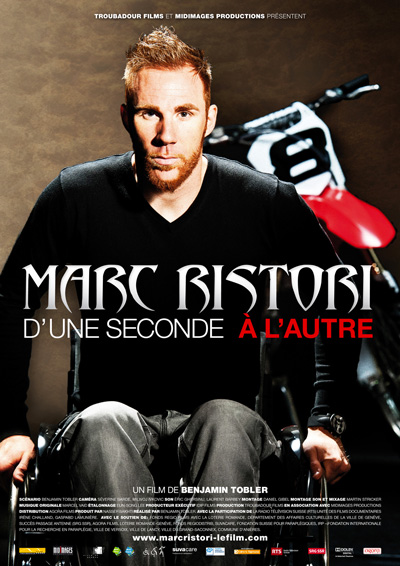 Info
Production
Technical
Info
Original Language
French
Subtitles
English / Deutsch / Español /Italiano
Format
Vidéo 16/9 Couleur / HD 2K / DCP
Type & running time
Documentary 103′
Year of production
2011
Country production
Switzerland
Distribution of the film – public screening / festivals
In Switzerland: Troubadour films distribution
distribution@troubadour-films.com
Worldwide sales: distribution@troubadour-films.com
ISAN 0000-0002-DFA2-0000-0-0000-0000-3
Production
Technical