Directed by Nasser Bakhti
Synopsis :
Algeria is dead because there are no men capable of enforcing law and respect for human beings… And for me, at age 68, I Could have lived to live in any living condition, but not with bloodshed, killings, heaven and hell…
A journey of emotions and truths through the past and present of an old man and his country, Algeria. At the age of 68, Mohamed Bhakti lives in today's Algeria, torn by violence resulting from a shaky democracy. He is part of the Algerian people whose history reflects a profound sorrow nd whose future is increasingly uncertain.
 Cuore Amico di Brescia award, Milan Festival, Italy, 1993
 Special mention, Official Jury, Milan Festival 1993
 Special mention, International Festival of Mons, Belgium, 1993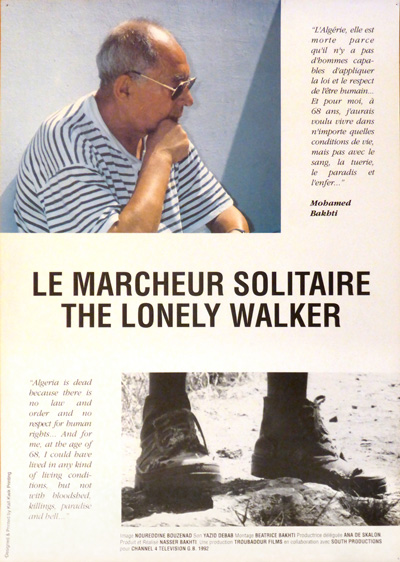 Info
Production
Technical
Info
Original version
French, Arabic
Subtitles
English
Format
Video 4/3 Colour / 16 mm / DVCAM
Type & Running time
Documentary 27′
Year of production
1992
Country of production
Algeria, UK
Distribution of the film – public screening / festivals
In Switzerland: Troubadour films distribution
distribution@troubadour-films.com
Worldwide sales: distribution@troubadour-films.com
Production
Technical