Directed by Nasser Bakhti
Synopsis :
Geneva, 24 hours in the life of five people, none of whom fit into Geneva's postcard image as a city of privilege. Hans an old cop exhausted by life and a divorce he did not expect at all.
Adé, a young Malian who dreams of becoming a famous football star, but has to hide and to work illegally for now. Momo, who has abandoned his studies to become a garbage collector in order to support his family in Algeria, but cannot bring himself to tell them the truth about his new life. And then there is Claire, a young Swiss woman, lost and erring in the night. Annihilated by the use of drugs.. A chronicle where the destinies of locals and foreigners will cross, collide, between doubt, dignity, indifference, violence, and humanity.
A night revealing to each one of them what he wanted to hide or did not want to see.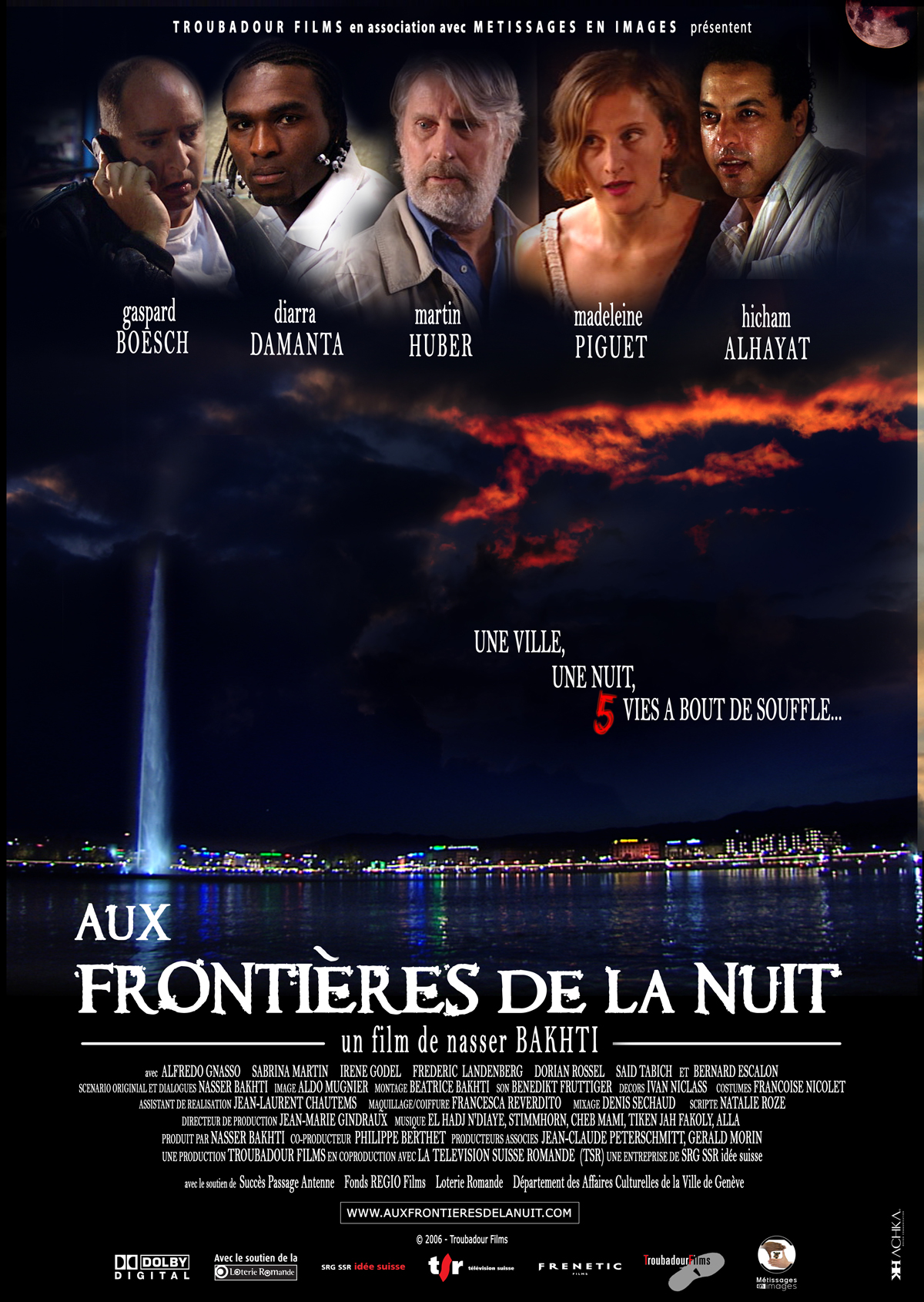 Info
Production
Technical
Info
Artistic crew
Martin Huber
Madeleine Piguet
Hicham Al Hayat
Gaspard Boesch
Original Language
French
Subtitles
English / Deutsch / Español
Format
35mm 1 : 85 Couleur / digital Beta
Type & Running time
Feature film – 108′
Year of production 2006
Country of production  Switzerland
Production
Technical
 Muscat International Film Festival, Oman, 2008. Public grand Prize & Best first feature film
 
 5th Panafricain International Film Festival, Cannes, France, 2008. Dikalo Award for Best feature Film
 
 28th Mostra de Valencia Spain 2007. Public Grand Prize
 
 The Harlem International Film Festival,2007. Brown stone for Best Director Award
 
 7th AMAL International Euro Arab Film festival, in Santiago de Compostela, Spain. 2007. Best Director Award
 
 7th Arab Film Festival of Rotterdam, Holland, 2007. Best Film Award & Best Actress for Madeleine Piguet
 
 31st. Mostra de Sao Paulo International Film Festival, October 19th to November 1st. (New Filmmakers Official Competition)