Hugues de Wurstemberger / Didier Schmutz
Synopsis :
Robert Guillet lived its fifty-fourth season on the alp. Victim of speculation, the alpine cheesemaker became a landless peasant.
He has neither field nor cattle to leave to his son Benoît. Shooting for more than a year alongside the Guillet family, Hugh Wurstemberger and Didier Schmutz with "Farewell my Mountain" offer a reflection on the future of the of the Alpine peasants.
Beyond the tragic fate of alpine cheesemaker and his family, a question emerges: is there still a future for mountain farming?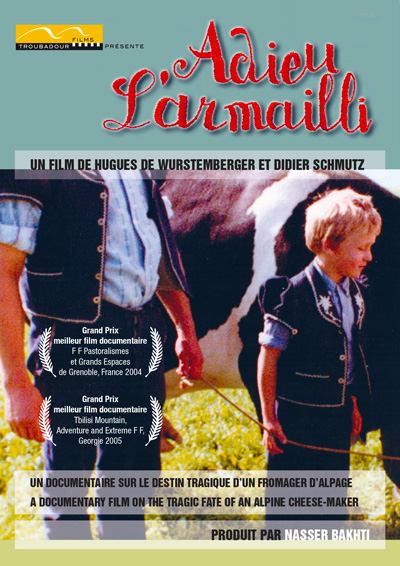 Grand Prize for Best Documentary Film in Grenoble's ixth Pastoralismes Film Festival France in 2004
 
 Grand Prize for Best Documentary Film in Tbilisi Mountain, Adventure and Extreme Film Festival 2005 in Georgia
 
 Best sound Tbilisi Mountain, Adventure and Extreme Film Festival 2005 in Georgia
Info
Production
Technical
Info
Original Language
French
Subtitles
English / Deutsch / Italiano/Spanish
Format
Vidéo 4/3 Colour / Beta digital
Type & Running time
Documentary 56′
Year of production 2003
Country of production Switzerland
Distribution of the film – public screening / festivals
In Switzerland: Troubadour films distribution
distribution@troubadour-films.com
Worldwide sales: distribution@troubadour-films.com
ISAN 0000-0000-D875-0000-R-0000-0000-U
Production
Technical